Clinton Industries Recovery couches are perfect for Schools, Industries or Clinics
U- Leg Couch Features:
Dual frame construction with separate base & headrest sections
Non-adjustable wedge headrest
Chrome-plated, round, steel legs
Paper dispenser included
2" firm foam padding
Heavyweight, knitbacked upholstery
Middle support adds stability
Item available for FedEX® Ground shipping
250 lbs. load capacity under normal use
California residents please be advised of the following, pursuant to Proposition 65:
WARNING: This product can expose you to chemicals, including chromium, which is known to the State of California to cause cancer and reproductive harm. For more information go towww.P65Warnings.ca.gov.
Hardwood Leg Couch Features:
Dual frame construction with separate base & headrest sections
Non-adjustable wedge headrest
Solid, natural finish, hardwood legs
Paper dispenser included
2" firm foam padding
Heavyweight, knitbacked upholstery
New middle support leg adds stability
Item available for FedEX® Ground shipping
250 lbs. load capacity under normal use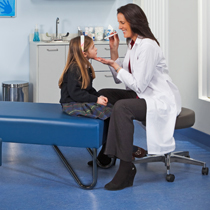 U-Leg Couch

Hardwood Leg Couch